UFC Vegas 65 Recap
UFC Vegas 65: Lewis Vs Spivak, Nzechukwu Vs. Cutelaba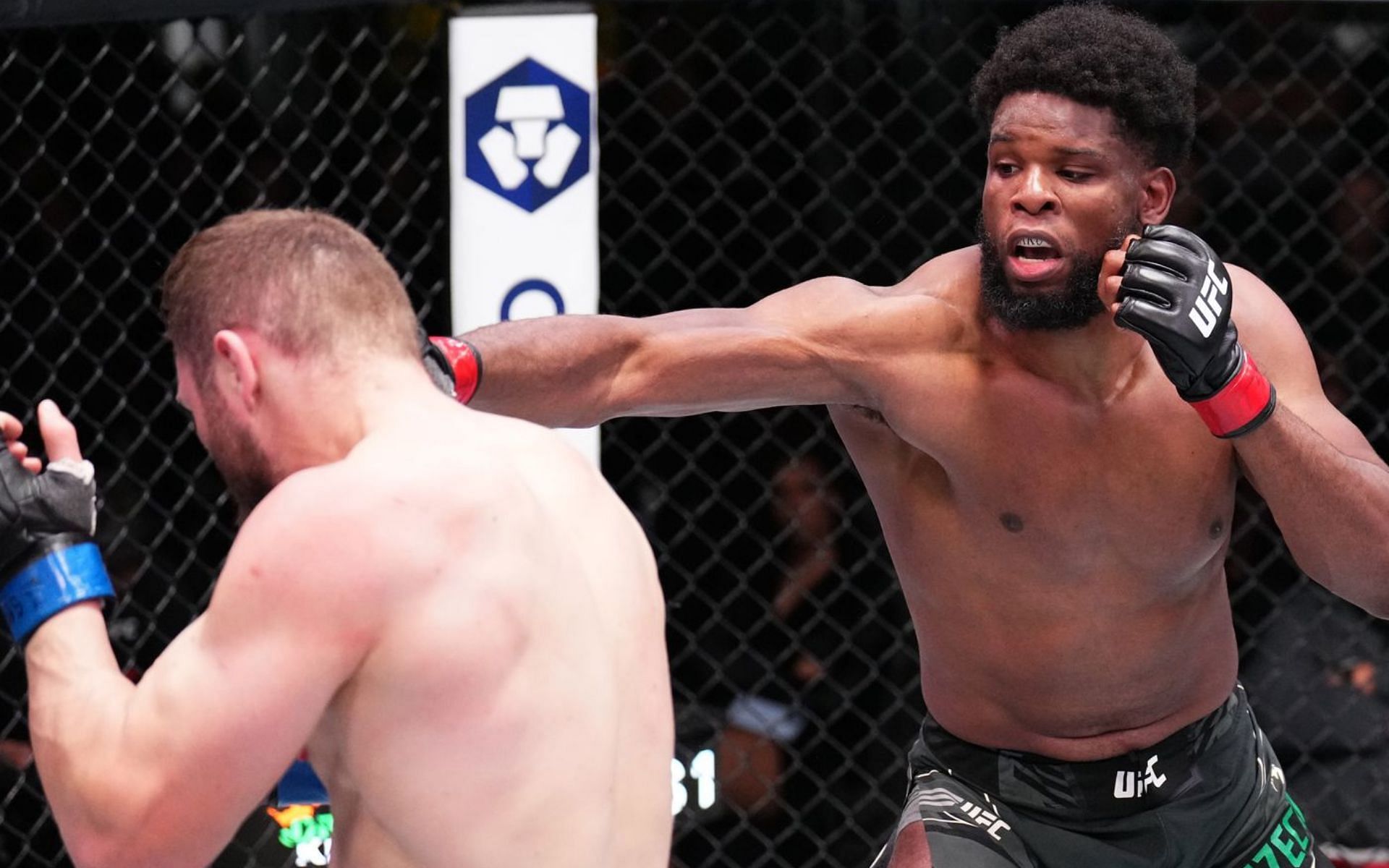 UFC Vegas 65, Lewis Vs. Spivak, took place at the UFC Apex on November 19th 2022.
The main event of the card was cancelled
,
the most prominent coach was pulled day-of for state and federal investigations
, and the main event featured two guys who aren't even in the top-15 in the second thinnest male division in the UFC. To top it all off, Muslim Salikhov obliterated my bet-slip and I ended up losing on the night in terms of official slip. (Added Acosta To Win, Kennedy/Cutelaba doesn't go distance parlay after Lewis cancellation.) Let's lick our wounds and take a quick look at the shortened main-card ESPN pays 50 million a year for. A card that did not feature a ranked fighter and had the two most popular stories the next day not involve the actual fights.
They pulled Lewis due to weight cut related stomach issues, AKA cramps. Upsetting for my bankroll that he didn't fight. If he was 300lbs a few weeks ago, that confirms he did not train and Spivac was ready to steamroll. Lewis was medically cleared by the time the main event started, adding to the weirdness. They will probably move the fight to January, or re-book altogether to still use Lewis's name and highlight reel for a Fight Night main event.
Cutelaba talked throughout the week about job security because of his fight style, then came out grappling. Nzeckukwu talked about his improvements to his overall game and maturity, and exhibited both. Ion actually showed some good clinch-work and grappling to get Nzechukwu to the cage and mat, but had little in terms of what to do when he got it down there. Nzechukwu has trained at
Fortis MMA
under Sayif Saud since 2016, and outside of the Jon Jones' of the world, it takes 2-4 years to piece it together. This fight showed a good step forward across the board. When Cutelaba had Nzechukwu on his hands and knees near the fence, Cutelaba left a lot of space between him and Nzechukwu. Once Ion had postured up but didn't roll-over Nzechukwu, Nzechukwu used the space to shoulder escape out and actually end up in the dominant position in back side control. Two fights ago, he wasn't punishing Nicolae Negumereanu for those same mistakes, though Nicolae did make much fewer of them. Once Nzechukwu had the dominant back side position, he pinned Ion into the fence and held him there for rest of round. Big red flag from Ion to struggle once down to the mat in a dominant position, and another red flag to not know multiple ways to exit being pinned against the cage. Nzechukwu gets all of Ion's foot right up the middle early in round 2, and that low-blow seems to have fired him up. He ditches the outside strikes for jabs and straights down the middle, which land repeatedly. Ion takes a left straight directly on the chin and is glassy eyed, now fighting heavily on instinct. Ion starts dipping really far forward every time Nzechukwu throws, which gets read quickly. The next time Cutelaba dips forward, Nzechukwu lifts his knee right into Ion's head. Cutelaba was essentially out on his feet as Nzechukwu swarmed with intelligence. Mixing up uppercuts and hooks to land flush on Cutelaba, even as me makes slight adjustments. Eventually Cutelaba collapses and Kennedy Nzechukwu wins by TKO 1:02 into Round 2.
Ion is on the way out, Nzechukwu is on the way up. Cutelaba looked to be declining across the board: body shape, striking, and grappling. While Nzechukwu still looks a little stiff, the striking selection and diversity continue to improve. I don't believe Nzechukwu will be an elite light heavyweight, but he is a fun prospect with continuing upside. I look forward to what my ongoing folder on him will look like in 2 or 3 years.
Ion Cutelaba - Bellator, PFL, BKFC
Kennedy Nzechukwu - Jimmy Crute or Khalil Rountree. Get an opportunity to move into top 15 against high-level strikers for the division. Can be reality check he needs, or confirm he's a sprawler and brawler.
Chase Sherman has quick hands for the division and is a real threat round 1 to anyone outside the top 15. Beyond that, he's a regional level fighter with a strong social media game. They both gassed out by the end of Round 2, with Chase running pretty much on empty while Waldo was just more tired than he should have been. Acosta has shown in multiple fights the ability to control his way to more surefire wins, and did the same here. Two key pieces for his success this fight were his ability to stay disciplined to his jab, and using that discipline to land check hooks. If you frustrate at range, they will come in sub-optimally. Punishing the frustration not only does damage when you land, but throw off the opponent even more. Nothing overly impressive in the fight, a little disappointing from Waldo Cortes-Acosta.
Chase is still fun for a round or two, but is not UFC caliber. Waldo Cortes-Acosta, considering his natural ability and camp-switch, should have looked better against an aging, undisciplined Sherman.
Chase Sherman: Hopefully gets back to the regional/circus fight scene. He's a good guy with a fun fighting instinct, but isn't UFC caliber.
Waldo Cortes-Acosta:
Shamil Abdurakhimov, and no one else. Multiple fighters, such as Lewis, have said Shamil is uniquely strong and tough. Acosta needs someone that can push his tank and withstand a combo to see where he lines up in the division.
This one almost hurt to watch as Andre Fialho fan, but was a veteran performance from Muslim Salikhov that showed the full skill-set he's used during his run in the UFC. Fialho has shown major lapses in judgement for sensing the finish of a fight and pushing too hard, as well as spamming his lead hook without enough set-up. In the bet-slip breakdown, I thought if Fialho could just limit the aggression and pick his shots he'd find success. I also thought Salikhov could control him for long stretches, as well as have some finishing power once Fialho tired. By midway through the second round, Salikhov had found the timing on the lead hook by Fialho. Fialho did not make any major adjustments, and repeatedly stepped into Salikhov clinches. This lead to Fialho getting controlled on the ground again. Round 3 Salikhov showed his veteran savvy and went for some home-run strikes to get Fialho out and not leave it up to judges. The spinning back kick and swarm was a nice highlight reel finish for a guy who constantly throws spinning shit.
Fialho may just be the fighter he is at this point in time. Meaning, no major improvements to his striking game-plan, and doesn't seem focused enough on improving his grappling. He can be a fun watch, but will need some big finishes to even maintain UFC job security in such a deep division. Salikhov is ageless and showed the full-range of his abilities from spinning shit to drowning in grappling.
Andre Fialho: Fun Striker. Daniel Rodriguez or Jeremiah Wells
Muslim Salikhov: Test a young hybrid. No prior Combat Sports bad habits. Trevin Giles or Ian Garry.
What's next for the UFC?
They're taking a welcomed weekend off and then coming back on December 3rd with UFC Fight Night Thompson Vs Holland. It's actually a stacked card in terms of ranked fighters and interesting matchups, but certainly lacking in star power outside of the main event. I'll be releasing a technical preview of
Matheus Nicolau Vs. Matt Schnell and Michael Johnson Vs. Marc Diakiese this weekend, as well as a Bet-Slip the Thursday before the fight.
Follow me on Twitter
if you want to see my bets in real-time and get my quick thoughts during fight studies.
Subscribe to my SubStack
for exclusive E-mail posts.
Plugs:
stacked.place
linktr.ee/jstack
https://jstack.substack.com/
twitter.com/jstacktv
Thank you for reading,
JStack


Proper Sources: